Installations Around Campus

Arati Kushwaha - Slow Decay: Monster
Business School Foyer
Slow decay points out kind of pain that has around gender discrimination.
Bio: Arati Kushwaha is a visual artist born in India. Arati's work explores themes of identity, gender, sexuality, femininity and selective self-induced abortion and destruction. The exhibition pieces are executed through soft construction and waxwork pieces, which represent diverse and critical ideas and raise awareness of these issues. Arati exhibited work in solo and group shows including Prague, New York, Bangladesh and New Zealand. Arati has completed Masters of Visual Arts (2018) at Otago Polytechnic Dunedin School of Art New Zealand.
---

Lucy Winton - Genus Species: Panthera Leo (Lacey) + Phoenicopterus roseus (Tammy)
St David's Cafe Foyer
The two works Panthera leo (Lacey) and Phoenicopterus roseus (Tammy) come from my 2017 series Genus species, a collection of five animal-human hybrids. These creatures are a part of a new reality, a new way to understand humanity intertwined with nature instead of looming over it. Driven by the intersection of feminism and nature, the work seeks to balance our relationship with the environment and each other. Each creature possesses human proportions but is scaled to the animal. This combined with the visible hand-stitching and construction gives the work a monstrous quality.
The viewer is invited to walk around, between, and through Panthera leo and Phoenicopterus roseus, becoming a part of their intertwined dynamic. How do you size up to a lion? Who is predator and who is prey? Humans become decentralised to live as part of a planetary whole, equal to each other and the beings we live with.
---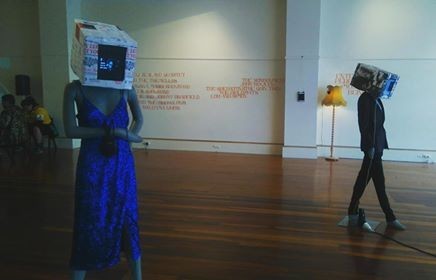 Lou Kewene-Doig - He Kohinga Pao: The Exhibition: The App
Moved around the campus throughout the week
He Kohinga Pao: The exhibition is a multimedia exhibition
celebrating nostalgia, memories and Māori Music of the 1960s. It
is the physical manifestation of the digital App He Kohinga Pao.
Future Convergence means connecting people with stories of our
shared histories by making use of different technologies.
Sometimes these stories are in hard to find places. He Kohinga
Pao the exhibition and the App hope to build connections
between these two places. Connecting our stories with people
who want to learn about them.
---
'When is Evil Black and White?' - Anthropology of Evil Paper
The Link
This will be a 2D, black and white installation, featuring 10x separate A2 panels, by the ten students of ANTH424. Each panel will include paper-craft and/or black and white mark-making to represent a key idea from an academic reading on the topic of genocide, difference, purification, and the 'social organisation of evil'. Each will come with a short blurb explaining the context, and citing the source material, with one key quote selected.
---
'Symbols of our Times' - Anthropology of Relihion & the Supernatural Paper
St David's Cafe Foyer
Students will explore the idea of a 'summarising' symbol (a symbol that packages together a range of important meanings & feelings), in relation to contemporary NZ culture. Individual students will draw a symbol of their choice onto a small coloured square of perspex, and the result then represents a 'collective snapshot' of meanings and values, represented in a 'window' of faux stained glass. An information plaque will be providing contextualising the project will be provided.