OUSA was founded on 20 May 1890 in order to run student rooms, organise activities over Capping, approach the University with student concerns, and arrange socials. 120 years later, we're still doing that, but on a much grander scale! We have also been involved in some of the bigger issues of the past 120 years and our executive members have gone on to great achievements.
---
How the University removed 1947 President John Child out of office
In 1947 John Child's welcome message to students in the handbook advised them to work out their own standpoint with regard to sexual relations and morality and to "Subject your religious belief to the bar of science. If it is acquitted of all counts, re-examine the judge".
When he reiterated his point in his speech to freshers, the University took notice.
A mature student who had already completed a BA in economics and also had some experience in the public service, the Dunedin Teachers College and the Air Force, John is described as being conservative in dress and appearance, but wanting to shake up the deferential approach to sex, politics and religion using his own quirky brand of humour.
The University of the time used its own quirky brand of humour by giving him a choice between being "sent down" for a year or resigning as president, promising not to accept re-election to any post in the Students' Association and submitting a complete apology.
He chose the second option, completed a Masters with first class honours and went on to complete a doctorate at Oxford University.
---
How OUSA righted a longstanding wrong
Women have played a fairly equal part in the establishment and ongoing development of OUSA.
This contribution, outside OUSA secretaries, went unrecognised before the 1980s.
When John Child gave an incendiary speech in 1947 and was subsequently forced to choose between remaining President and being excluded for a year, it was the lady vice president Nola Ross who took up many of the tasks of office, and steered OUSA back to safer waters.
The 2005 Executive chose to recognise the equal contribution of women to the OUSA Executive by awarding (now) Lady Holmes a Life Membership of OUSA.
---
Batons to the Ready, here we go
On September 28 1993, the Education Action Group (a semi-autonomous group whose campaign coordinators were employed by OUSA) coordinated a large fees protest outside the Registry. 1993 OUSA President Grant Robertson described it as a boisterous, passionate but ultimately peaceful protest. The protest all but ended. Those left decided to link arms and sit down. It was not Councillors who came through the door however but riot police, who charged down the steps, batonning all out of the way. The catalogue of injuries to protestors saw complaints against the police, a special volume of Critic was produced, and students directed OUSA to ban police from campus (not that we can). It is of note that fees setting now takes place in November of each year, toward the end of exams.
---
The Story of OUSA's Crest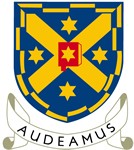 The University of Otago's motto is 'sapere aude' – Dare to Be Wise, OUSA's response: 'Audeamus' – we dare! While the University was granted its Coat of Arms by the Lord Lyon King of Arms (Scotland's premier officer of arms) on 21 January 1948, it was not until 22 February 1991 that OUSA followed suit.
The two Coats of Arms are very similar. OUSA's sports an additional border around the crest and, of course, a different scroll and motto below.
---
How OUSA prevented the University from introducing harsh discipline regulations
The year was 1971, 'Easy Rider' was showing in the theatres, and Ebraima Manneh was OUSA's President. The University, under a new vice-chancellor, proposed sweeping new discipline regulations broadening the definition of 'misconduct' from those relating to the academic functions of the University to any conduct ' "unbecoming" to members of the University'. (Sam Elworthy 'Ritual Songs of Defiance')
Despite a few unwilling members of Executive, Manneh spearheaded wide student protest against the proposals resulting in a 'sit-in' in the University Registry which grew to 2300 OUSA members (out of a total roll of 5928). The University pulled back on its harsh changes, and confined "misconduct" to University-based activities. It wasn't until 2008, with the introduction of the Student Code of Conduct, that the definition of "misconduct" was expanded to off-campus activity.