NZUSA UPDATES
NZUSA Elects its 2019 Leaders
The New Zealand Union of Students' Associations (NZUSA) has elected the student representatives who will lead the student movement in 2019. Otago's very own Caitlin Barlow-Groome was elected to serve as Vice President, with James Ranstead (Lincoln University) elected to serve as National President.
The elections took place at the NZUSA Congress (Annual General Meeting) where student leaders from across Aotearoa gathered to discuss the future of tertiary education and the big issues facing students.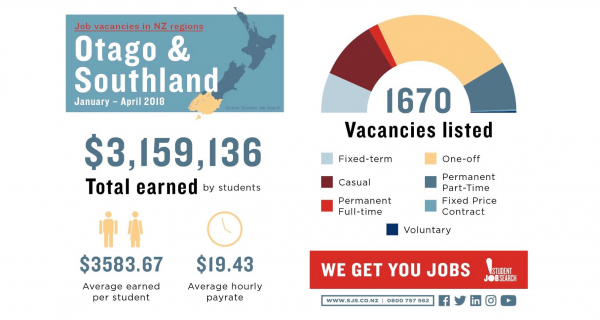 STUDENT JOB SEARCH UPDATES
Looking for a job?
Student Job Search provides a free service to employers and tertiary students of member institutions and is New Zealand's leading employment service connecting tertiary students seeking one off, casual and part time work.
Here is an update of vacancies in the Otago/Southland Region.
CONTACT YOUR EXEC
Got Feedback or Questions?
You can contact your Executive to give feedback or ask questions through the OUSA Executive contact page.