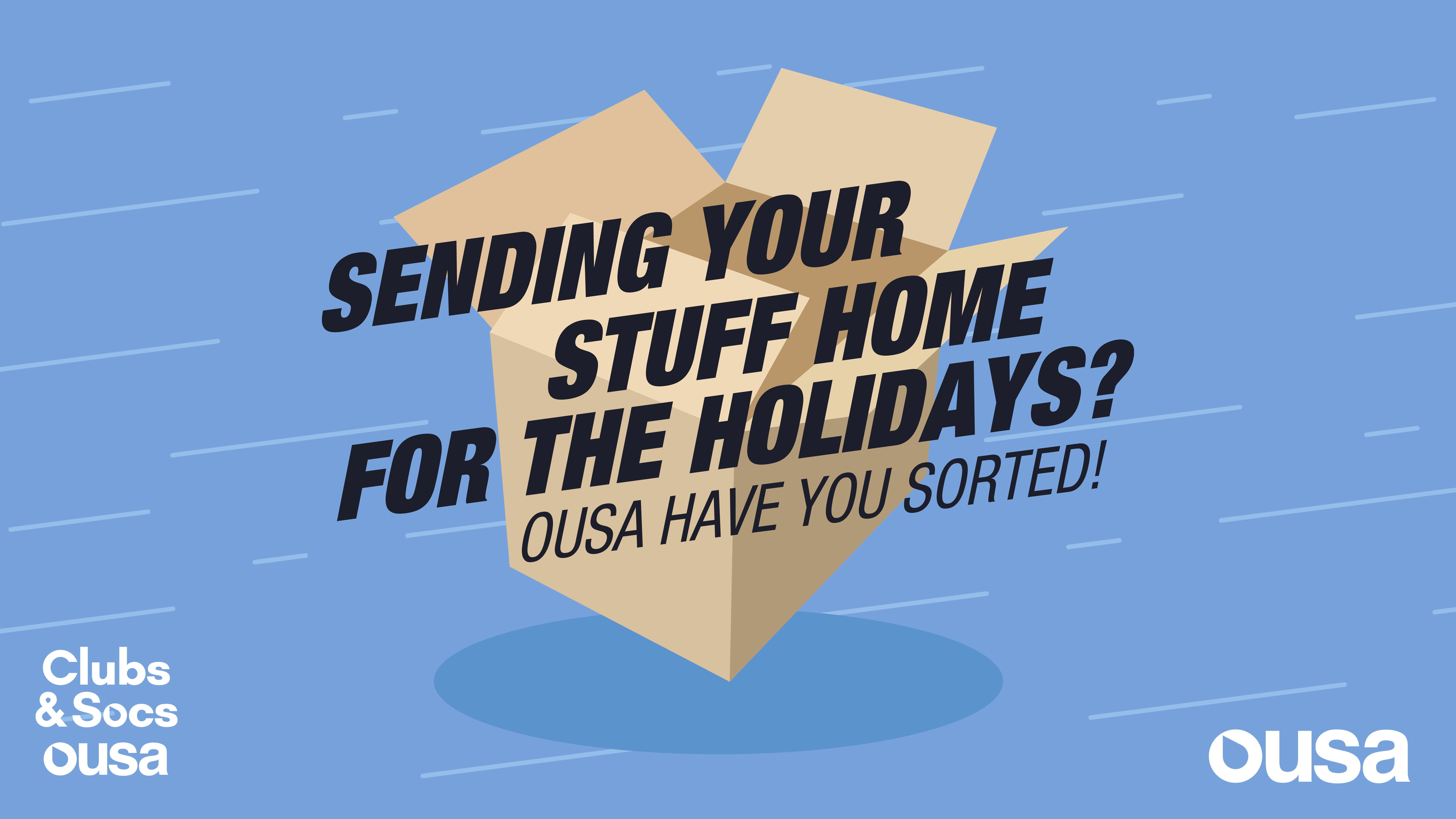 Sending your stuff home for the holidays?
Thanks for sending your packages home through OUSA and the University of Otago Mailroom.
There are a few bits and pieces you need to know before you send your stuff home.
1. All parcels are subject to the Otago Mailroom terms and conditions.

2. The box has a maximum weight of 20kg. Overweight boxes will need to be repacked by you and are not the responsibility of the Otago Mailroom.

3. The cost of sending this box is either $16 to urban addresses or $26 to rural addresses within New Zealand only. This will be determined upon purchasing the box.

4. The purchase of the box includes the box and the postage slip. Anything else (bubble wrap, packaging tape, stickers/diamantes to bedazzle your box etc.) is your responsibility. You will need to find your own tape. You must use the boxes provided.

5. Damaged boxes will be your responsibility, and will not be able to be sent.

6. The collection is from the Clubs & Socs building, 84 Albany Street, North Dunedin. Boxes will be scheduled for delivery when the minimum collection number is reached.

7. Delivery should be regular courier goal delivery time, from the pickup time from Clubs & Socs, not from the day you dropped it to Clubs & Socs. This may be a day or two later than your drop off time.

8. NO liquids, no perishables (e.g. strawberries or cheese), no valuables (e.g. computers or nana's heirloom diamond broach).

9. No PO Box or DX Box delivery available.
Mailroom terms and conditions:
By using the services provided by the University of Otago Mailroom you accept the following terms and conditions:
1. You must notify the University Mailroom of any damage to goods within seven (7) days of delivery.
2. You must notify the University Mailroom of non-delivery of goods within fourteen (14) days following lodgement of domestic delivery or ten (10) days after the expected delivery time for international delivery.
3. For goods valued at over NZD$2,000 the sender must arrange adequate insurance and select "courier and signature" delivery option.
4. If you receive compensation from the University for a lost item and the item subsequently turns up, the item becomes the property of the University until the compensation is fully refunded.
5. The University is not liable for any claims:
a. received outside of the timeframes listed above;
b. due to inadequately packaged goods;
c. due to incorrectly addressed items;
d. arising from goods being sent by an unsuitable delivery method;
e. relating to damage occurring after delivery;
f. in respect of prohibited goods;
g. over NZD$2,000 total.
Please pack your boxes sensibility, if the box is not full, try using old exam papers or the ODT to make sure that things do not move and break.
Make sure the weight of the box is a maximum of 20KG (not 20.01kg).