Committees
Each committee is run by their respective representative and allows you to feedback into OUSA and help govern the direction of the assocaition. They are also a platform for you to bring up issues, lobby the university and make some change.
Click on each link to get a detailed version of what the committee does and the application form:
Committees are a great way for you to get involved - both in making policy and in helping OUSA reach out to students. There are a wide range of committees that need all sorts of different skills so there's always one for your interests and talents. Committees commence in March of each year.
Colleges Committee
Chairperson: Jack Saunders
Members: College presidents or elected other from each college
Contact: colleges@ousa.org.nz
Purpose: The Colleges Committee exists to share ideas between the different colleges and help set up events and competitions between the Colleges as well as to inform OUSA of the issues facing first year residents.
Residential Committee
Chairperson: Jack Saunders
Members: anyone interested
Contact: residential@ousa.org.nz
Purpose: The Residential Committee exists to share ideas on how to improve students living conditions and lives outside of the University. The Residential committee is a new committee and role in 2020.
Academic Committee
Chairperson: Emily Coyle
Members: Anyone interested
Contact: academic@ousa.org.nz
Purpose: The Academic Committee is constantly working towards helping to improve the academic experience of students at Otago. It is a place to bring up, discuss and make change. If you have any thoughts, ideas or just want to be involved in this, apply!
International Committee
Chairperson: Arina Aizal
Members: Presidents of International Clubs
Contact: international@ousa.org.nz
Purpose: The International Committee meets regularly with the International Clubs to discuss the issues of international students at Otago University. They come from a diverse range of backgrounds and utilise their skills to plan awesome International events for the wider student body. Please feel free to approach us if you have any pressing International issues, ideas, and concerns - we are here to help!
Policy Committee
Chairperson: Georgia Mischefski-Gray (Administrative Vice President)
Members: Josh Meikle, Jack Manning, Debbie Downs, Daniel Stride, Rebecca Turner, Samuel Moncur.
Contact: adminvp@ousa.org.nz
Purpose: The Policy Committee facilitates policy development at OUSA. The core function of the Committee is to draft, regularly review and recommend policy to the OUSA Executive before it is ratified by the student body at referendums.
Welfare and Equity Committee
Chairperson: Michaela Waite-Harvey
Members: Open to anyone interested
Contact: welfare@ousa.org.nz
Purpose: The Welfare and Equity Committee is the place to discuss and take action on things that affect student welfare. If youre keen to improve the Welfare and Equity of Students at the University of Otago then pop along to our meetings and help.
---
Student General Meeting
Date to be advised.
---
Online Referenda and Student Forums
Online referenda are one of the many ways you can have your say through OUSA. Whether it's about university policy or a wider issue, you can change OUSA's stance.
Online referenda are used to guide OUSA policy; it's a direct online vote allowing every University of Otago student to have their say.
Student forums provide an opportunity for students to discuss the questions that will be in the Online Referenda. You can also submit your own questions/motions for online referenda. For example, if you think OUSA should support or oppose mandatory veganism, you can submit a referendum question so that students can have a say.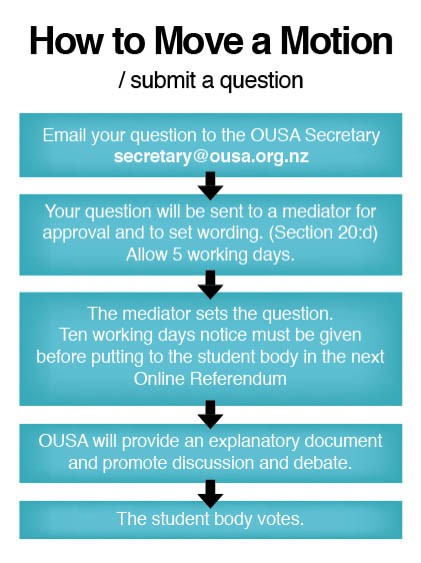 For more information contact secretary@ousa.org.nz or refer to the OUSA Constitution.
---
Reviews
We want to make sure that OUSA provides the best possible service and value to students so we'll be looking at the way we do things all the time to see how we can do better. Keep an eye out on the OUSA website, facebook and Critic to see what we're looking for feedback on.
---
Class Reps
The class representative system is an avenue for encouraging communication and consultation between staff and students. Class Reps help to resolve issues that affect the entire class (or many students) and give students the chance to give both positive and negative feedback on their courses. For more info on Class Reps, click here.