Return to Upcoming Events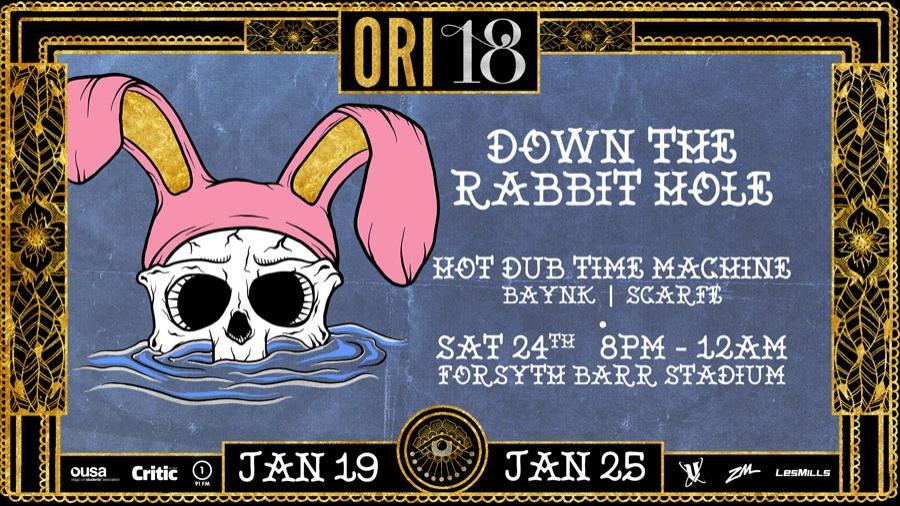 Ori '18 | Down The Rabbit Hole
w/ Hot Dub Time Machine, Baynk & Scarfé
To fall down a rabbit hole means to stumble into a bizarre and disorienting alternate reality. This Orientation the Queen of Hearts returns with the Down the Rabbit Hole themed dress-up party. The stadium will once again be turned into a wonderland for an evening of madness and delights.This is gonna be a huge party, so make sure you follow the white rabbit to a land beyond imagination. Get weird in wonderland as we go Down the Rabbit Hole once again this Orientation.
---
Saturday 24th February

2018
8:00pm -

12:00am
Student Tickets: $47.65 + bf

| General Admission Public Tickets: $57.65 + bf
Forsyth Barr Stadium 130 Anzac Ave, Dunedin
---
Hot Dub Time Machine
Hot Dub Time Machine is a one-man party machine. Selling hundreds of thousands of tickets worldwide, he's appeared at Coachella, is an annual best-seller at the highly competitive Edinburgh Fringe Festival – just recently performing two of the biggest shows to take place in the Fringe's entire history. He's blitzed the festival circuit back home in Australia, headlining Splendour in the Grass, Falls Festival and more multiple times over, and has sold-out back-to-back Australian headline tours.
But what is Hot Dub Time Machine? It's a club night like no other. Starting from the '50s, Hot Dub plays songs from every decade, in chronological order, and accompanied by archive concert footage and music videos on huge screens - and winds and weaves it into one expansive, electrifying, music history lesson.
Hot Dub Time Machine consistently delivers stellar live performances that are near impossible not to enjoy. He pinpoints the happiest moments of your partying days past, and re-creates those moments to perfection for you all over again; intertwining them with the right here and the right now - in the most exhilarating way possible. His party is forever entertaining, and will surely go on for years to come.
BAYNK
BAYNK has cemented his position as one of NZ's top electronic music exports having claimed the spot as one of New Zealand's top 5 most-streamed artists. BAYNK released his first laid-back, beachy, original track "Sundae" in 2015 & then lost his laptop along with the rest of his music. He found some months later that the track had found its way to prominence through the blogosphere and landed him a spot at 2016's Laneway Festival. Since then he has released a sting of successful tracks, toured the US, starred in Apple Music videos, and is playing the closing set at this year's Laneway.
ZM will be helping taking you Down the Rabbit Hole in 2018 so look out, get dressed up, get amongst, and have an epic Ori!
SCARFÉ
Scarfé is a local Dunedin electronic producer who has gained international attention for his music. His track 'Stay The Night feat VI NE' has had over a million streams on Spotify, he has worked with the likes of multi-award winning artist Kings, and been included in line-ups such as Spring Break Fiji.