Return to Upcoming Events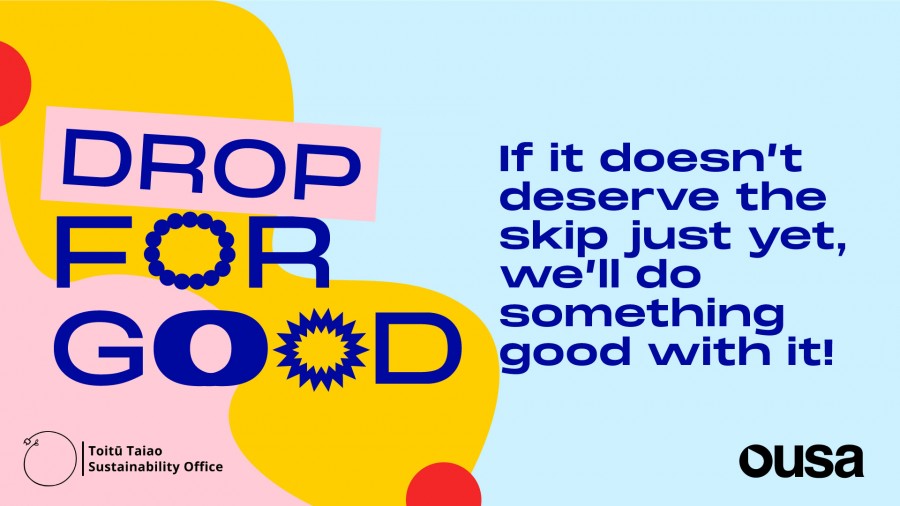 It's close to the end of the year and we've been here before - loads of stuff and nowhere to store it, so the skips become way too tempting.
How about doing something good with it?
We've made it super easy to give some extra life to your goodies! OUSA and Sustainability at Otago are again joining forces to bring you Drop For Good for 2022.
We'll take OR pick up your stuff that doesn't deserve the skip just yet, and do something good with it!
WHEN
WEDS 2 NOV I 10am - 12:30pm
THURS 10 Nov I 10am - 12:30pm
FRI 11 Nov I 10am - 12:30pm
WHERE
Te Oraka, 96 Anzac Avenue
WHAT WE'LL TAKE
All items must be GOOD QUALITY, WORKING, CLEAN and USABLE. Please do not give us anything gross, smelly
or broken. We will NOT be taking any beds or bedding this year.
Items we will be taking include:
Shoes

Clothing Items

Flat furniture

Small household items

Appliances

Books
HOW
Come to Te Oraka any of the three days and drop your items off! Drop off items must be sorted into the categories above.
We recommend sorting your items before you arrive to speed up the process for yourself and us! Otherwise you will be asked to sort your items once you arrive. We estimate around 15 minutes to drop your stuff off.
For larger items, you can book in for our pick up service! Pick ups can be booked via. bit.ly/dropforgoodpickup
PLUS! We're still looking for volunteers to help us out with Drop For Good this year. If you're keen, head along to bit.ly/dropforgood
---
Wednesday 2nd November

2022
10:00am -

12:30pm
---