Return to Upcoming Events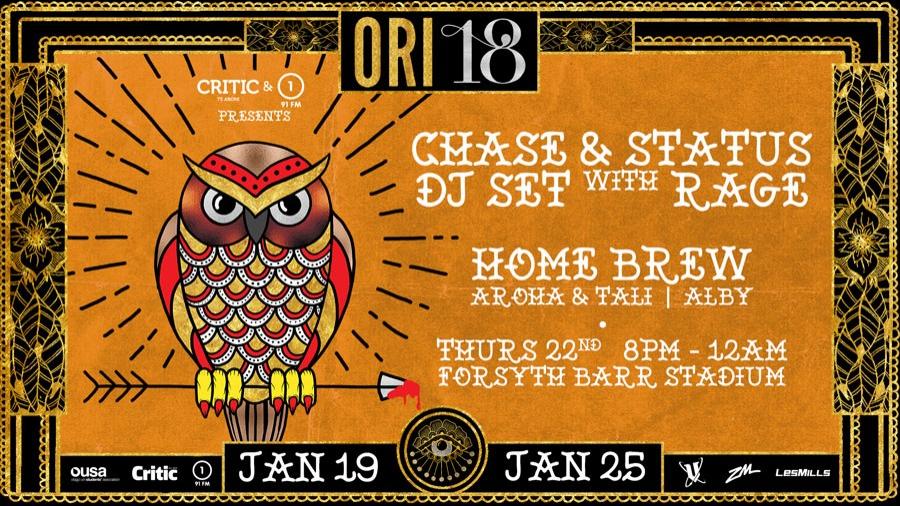 Ori '18 | Critic & Radio 1 91FM Present: Chase & Status [DJ Set]
w/ Rage + Homebrew + Aroha & Tali
Hailing from the motherland of D&B, the UK, Chase & Status are one of the most commercially successful acts associated with drum'n'bass and dubstep, with multi-platinum albums, numerous charting singles, and production work for major artists like Snoop Dogg and Rihanna. With support on the night from high-calibre NZ acts Homebrew and Aroha & Tali, this should be a gig to remember!
---
Thursday 22nd February

2018
8:00pm -

12:00am
Student Tickets - $52.65

| General Admission - $62.65 | Included in Super Pass + Frother Pass
Forsyth Barr Stadium 130 Anzac Ave, Dunedin
---

Chase & Status [DJ Set] w/ Rage
Consisting of dance DJs and record-label owners Saul Milton and Will Kennard, the duo have pretty much been unstoppable since they first emerged on the scene with their debut album 'More Than Alot' in 2008. Their hard-hitting beats, massive choruses and collaborations with some of the UK's finest vocal talents ensured all eyes were on them. Follow-up 'No More Idols' went 2 x Platinum, and featured the hits 'Blind Faith' and 'End Credits'. Their third album, 'Brand New Machine', borrowed from a melting pot of genres and reached No 2 in the charts.
Chase & Status have firmly established a name for themselves as one of the best live acts the UK has to offer. Their fourth album, Tide, boasts collabs from the likes of Emile Sande, Kano, Craig David, Shy FX and more.

Homebrew
Ten years ago 'Home Brew' released their debut EP 'Last Week'. Their case manager has never been so proud. They followed that up with a No 1 album that went platinum, won some award invented by a cellphone company and eventually catapulted them into the status of national treasure / public enemy. However, after a messy breakup with the record label that distributed the record, they were negotiated out of the masters to the album. Meaning they don't receive a cent made from the record. This summer they will tour the country in hopes to get back the rights to the only worthwhile thing they own.
Home Brew are led by Tom Scott (@Peace & Average Rap Band), Haz'Beats (Team Dynamite), Lui Silk (Allied Work Force) and backed by a live band good enough to be stolen by acts such as Aaradhna, Hollie Smith and Teeks. During this tour Tom and some members of the band will be moonlighting secret shows on the side in selected small venues to fine tune their new experiment 'Avantdale Bowling Club'. If they get their finances right on this tour, the debut record 'Years Gone By' will be available this winter.

Aroha & Tali
Aroha & Tali are a powerhouse of talent and a formidable force with an act unlike anything you've heard before. Individually they're two of New Zealand's most prolific and respected performers; Aroha bringing the bass heavy house & techno selections with precision mixing; Tali rocking the mic, freestyling with soulful hooks and deadly MC flows.
Aroha is an award-winning DJ & broadcaster who has opened for some of the world's biggest acts including Disclosure, Diplo, Kaytranada and DJ Jazzy Jeff. Tali has released several albums, toured the world multiple times as a Drum & Bass MC, and played festivals including WMC Miami, Glastonbury and Fusion (Berlin).
What started as an impromptu collaborative performance opening for Grammy award winning singer Kimbra; the two realized they might have something special when the crowd went crazy for their set and people were still talking about it months after. Since joining forces as a duo, Aroha & Tali have played at NZ's biggest music festivals, becoming a crowd favourite for their unique blend of house and techno that is pure fire for the dance floor – all with Tali's soaring vocals and uplifting lyrics complementing the mix.